Microsoft – Word
Microsoft has one of the most well known word processing formats on the globe, Microsoft Word. Word was first developed in 1983 and has since been updated many times to increase proficiency and encourage businesses and schools everywhere to use it. As I discussed last week, Word is by far my favourite Microsoft application in terms of easy usability. I am very fortunate as a Uvic student to get Microsoft products for free. 
Similarly to other word processing applications, Microsoft Word has a variety of helpful tools such as spelling and grammar corrector, speech recognition, inserting pictures, typefaces, special codes, tables, graphs, word art, and many other things to assist the user in making documents. In addition to tools, word has 30 different templates to make a document for any purpose. A few of the most popular templates include note taking, calendar, cover letter, resume, brochure, flyer, and menu. 
Word also allows for easy collaboration amongst peers and our professors often ask us to submit word files so they can add track changes to grade our work. One of the downsides to Microsoft Word is to collaborate, users must all have word on their computers, and since a lot of people are making the switch to Apple, using word is challenging since Apple comes with a different word processing app. 
Apple – Pages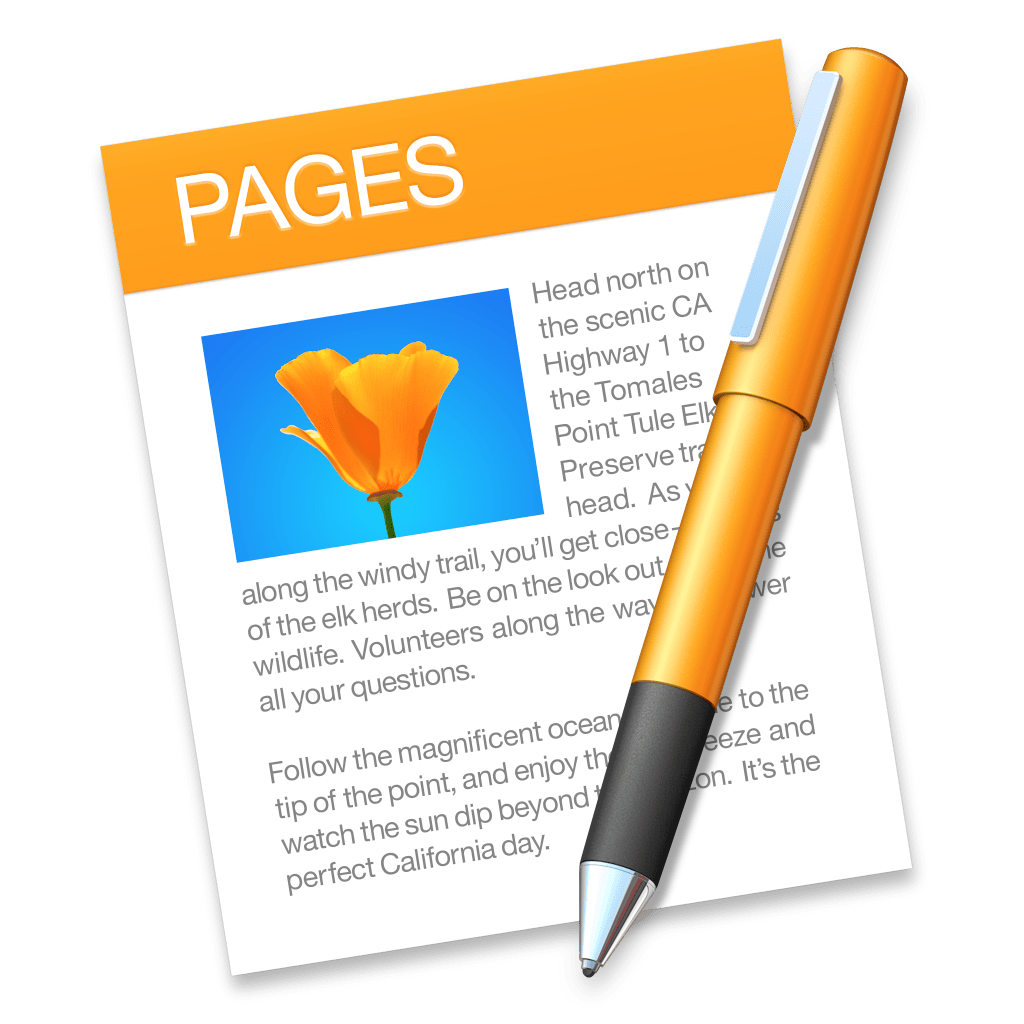 Pages is Apple's native word processing application. Pages was first released in 2005 and is compatible with both macOS and iOS devices. Pages allows for easy collaboration between Apple devices, which could encourage students to share work and make group assignments easier. Pages has pre-set templates that include note-taking, resumes, CVs, and letters. For projects, students could create brochures using one of the templates provided or create posters for presentations. 
As I spoke about last week, Pages has a very user-friendly interface. Once students are taught how to use the application, they will be able to create many different projects and use the word-processor as a versatile educational tool. Students could choose to use one of the pre-set templates or use their creativity to create one of their own. 
The benefits of Pages are seen in an all Mac or Apple environment. As the collaboration only works between Apple devices, so, if the school uses Macs as their primary operating system, Pages would be the best word-processing application. 
Google- Docs
Google Docs was launched in 2006 and is compatible with any device connected to the internet including smartphones. Google also launched an IOS app in 2014 to make Docs more portable and accessible to smartphone users. This app can be used offline, and is compatible with Microsoft Word. A big perk of Google Docs is that it saves automatically if the device is connected to the internet, so users have no need to worry about losing their work
Google Docs also has many templates to choose from, to help those who are not confident formatting. These include but are not limited to resume, letter, recipe, and project proposal templates. 
As I mentioned previously, Google Docs provides the opportunity for simultaneous collaboration between users, making group work manageable even at a distance. There is also a voice-typing option. I have not yet explored the accuracy of the voice- typing, but it is a great way to boost accessibility. Docs also has spell check, which can prevent students from making some basic syntax errors.
These blog posts happen to be written on Google Docs, actually.